The Honor 5X is a phone that only comes along every once in a while. It took me by surprise with how high-spec it has managed to be while still only coming in at a really low price.
The first time I picked up the phone I was initially a little let down by what this was, but then sitting back and taking a few moments to contemplate, I came to realise that the Honor 5X is incredible for its price.
Honor 5X - Detailed Review
It's remarkable that Honor is managing to retail this phone for £189.99 (US$199.99, about AU$275). That's without the discount offered by some retailers at launch, but may continue on in the future.
For the level of spec you're getting here, it's quite impressive how Honor has managed to keep the price so low.
Honor is an off-shoot of parent company Huawei, which has been producing phones for years and is starting to become a major contender in Western markets. Honor is where it plans to release the cheap, yet "cool" phones with lower price tags, and the 5X is exactly that.
Let's take a look and see what are the highlights and lowlights of the latest cheap, Chinese phone.
Design
Honor has highlighted the premium aluminium back on the 5X, but when you pick up this phone you notice right away that it isn't as high-end as you were hoping.
That's partly down to it being such a light handset. But it's also partly down to the tacky feeling metal on the back of the phone. That said, it looks great when you put it down or leave it on the table in a pub.
It's only when you pick it up that you notice how cheap it feels and when you compare it to the Huawei Mate 8 the weight makes an enormous difference.
The Honor 5X is made of an aluminium alloy uni-body that looks fantastic, at a distance, for such a cheap phone. The back of the phone has a brushed metal effect and the logo at the bottom has been etched in by a laser.
I feel it's a bit of a shame that's then followed by the Huawei name and details Honor has to fit on the back of the phone though.
The edges of the Honor 5X are more premium than the back and feel like they are able to take the odd knock on without taking any visible damage.
Even though the phone is reasonably large, the power button and volume rocker on the right hand side are still easy to access with your thumb. I did find the button placing a little too close together, especially when trying to turn down music through my pocket and trying to judge where the rocker was sitting through my jeans.
On the left hand side sits the microSD, microSIM and nanoSIM drawers. Yes, this phone comes with all three.
It means you can up the storage, which you'll likely need to as it's only 16GB, and have two different SIM cards in all at the same time.
Many other dual-SIM phones have to sacrifice the extra storage for this, so I'm impressed how Honor has managed to make this possible on the Honor 5X.
The bottom of the phone is home to the speaker grille surrounding the microUSB slot for charging and data transfer. Personally I disliked the grille on the Huawei Mate 8, but for me it seems to work on the Honor 5X
The slightly more budget feeling design complements the steampunk look of the speakers and I'm not as opposed to them here than I was on Huawei's flagship phone.
Some will likely find the Honor 5X a little unwieldy – but it's not going to be such as big problem as it was on the Mate 8.
Housing a 5.5-inch screen on the 5X, with relatively slim bezels, Honor has managed to keep this package tight and I feel those with smaller hands will still be able to control this phablet better than other options like the iPhone 6S Plus.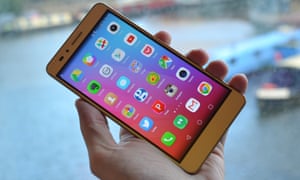 The 5X was, according to Honor, inspired by the Guggenheim Museum in Spain. Personally, I don't see where that has made an impact. A lot of the design on the Honor 5X is just the Huawei Mate 8 on a budget.
But that's not a bad thing. More than halving the price of an already cheap phone is a phenomenal step for Honor and you can't go in expecting something with a high-end, take-your-breath away design.
Display
With budget smartphones the display is usually one of the first things to suffer. Even options such as the Sony Xperia Z5 Compact only have a 720p display, but Honor has managed to avoid that.
The specs on the Honor 5X aren't comfortably better than you'd expect, with a 5.5-inch, 1080p display that is actually a great looking.
I particularly liked the Huawei Mate 8 screen, and while this panel isn't as large or as bright, the Honor 5X isn't far behind. In fact I've not used a budget phone with a display this beautiful.
The fact is, you don't need anything more than a 1080p resolution. LG and Samsung are embracing 2K while Sony is jumping to 4K on the Xperia Z5 Premium, but on such small screens the Honor 5X makes just a good enough picture with a far stricter pixel limit.
Turning down the display brightness it was quite a struggle to see the picture, so just make sure you don't turn it down all the way. I found auto-mode was bringing it down a little too low for how I usually like it.
The size is also worth noting. If you're undecided between this and the Huawei Mate 8, the Honor 5X is a little smaller but when you're watching video or playing games it can be difficult to even notice the difference.
The bezels are another complaint about the Honor 5X screen. A lot of space is wasted on the black bars fixed around the screen.
Especially along the bottom where you'd usually expect to find hardware buttons. It's a big thick line that feels like you should be able to tap it for buttons, but instead your only option is on screen buttons.
It's a strange choice, but clearly something Honor had to do to keep that price down.
Fingerprint scanner
One of the Honor 5X's key features is the fingerprint scanner on the back of the phone. Putting it on the back is traditional Huawei fashion, and for some people it works.
It's a rounder sensor than other phones we've seen from the company and is the first Honor phone to feature a fingerprint scanner.
The good news is it works well – setting up this fingerprint sensor only took 6 or 7 presses from each finger making it a simple and fast process.
Honor claims it can unlock the phone in only 0.5s, beating a lot of the competition out there. The reality is it's hard to notice the different anymore.
Compare the Nexus 6P to an iPhone 6S and the delay is so minimal it doesn't really matter in a day-to-day scenario. All you need to know is the Honor 5X is fast at registering your print and it will unlock as soon as you want it to.
An interesting idea Honor has adapted is that you can use different fingers to open up different apps. So for example. you could program your left index finger to open up the Messaging app directly.
It's a smart idea, but something you need to remember you have switched on. It's so instinctive to just bring a phone out of your pocket and use the nearest finger and press the app you're looking for.
After a week or so, I did get used to the feature though and found myself opening it up with a lot of different fingers than I do on other devices.