HTC did not disclose the "One M10" at Mobile World Congress, but a series of Desire.
According to the latest rumors, HTC is expected to unveil the HTC 10. Here are the first information, photos and video.
On the last day of Mobile World Congress, HTC released a very vague teaser showing the outline of a new phone. Well, we now know what that phone might look like, thanks to these renders that Evan Blass (a.k.a. the famed leaker of phones, evleaks) at
VentureBeat
got his hands on. These images show a white version of the device from every angle, though note that these are merely computer renders and don't show the actual handset.
According to Blass, this is the manufacturer's upcoming flagship phone, which will be simply known as the HTC 10. He said that the company chose that name, because it wants to veer away from its top-shelf devices' naming scheme these past few years. If you'll recall, those devices were called the HTC One M9, M8 and M7. The HTC 10 will be launched in mid-April, he added, and could be available for purchase as soon as early to mid-May.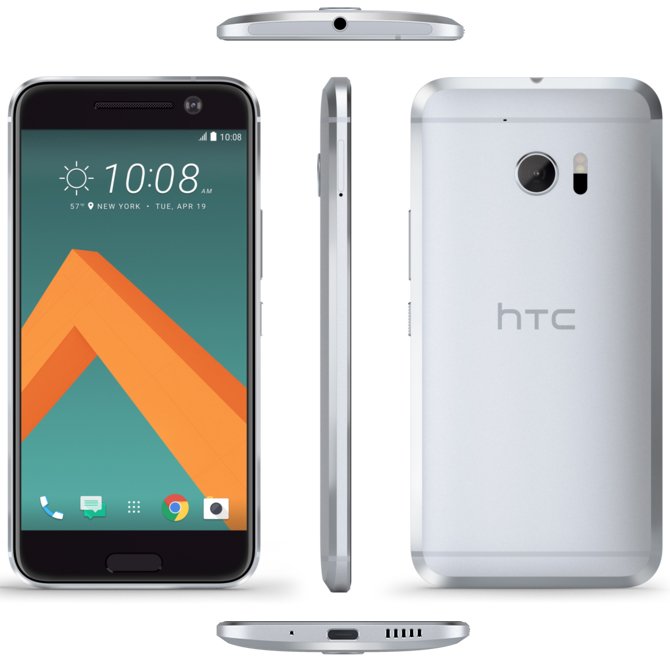 The blogger
does
not
merely
elsewhere
this simple
information
and
also
share photos
of
what appears to be
a
prototype of the device
as well as a
draft of
specifications
.
Thus,
if one believes
his information
, the HTC
10
is
equipped with a
qHD
1440p
5.15
-inch
screen, a
Snapdragon
processor
820
coupled with an
Adreno
530
GPU
and 4GB of
RAM,
a camera
12
Megapixels
and a
USB
Type
-C
,
also
shown
in pictures
.
Moreover
, one can see
these pictures
on
the presence of a
front
fingerprint
sensor.
This HTC 10 will not be surprising.
Finally, according EvLeaks (and @JMadden with OnLeaks) it should lose its "One" and be released under the name "HTC 10".
A simple and short name.
Overall it would resume the old design flagships, with the introduction of a fingerprint scanner on the home button on the front, surrounded by two touch buttons.
Also note the arrival of a USB Type-C connection and laser auto-focus, like the LG G5.
Its appearance is a mix between the A9 HTC One and HTC One M9.
Finally, it could also lose its facing BoomSound capabilities, with stereo speaker.
The rest of the features is going to surprise you, a 5.15-inch screen qHD resolution, a Qualcomm Snapdragon 820 processor, 4GB of RAM, and a camera of 12 megapixel rear camera.
More Photos: